China Mini Desktop Cnc Router Suppliers
Mini Desktop Cnc Router
The main feature of the Desktop Cnc Router is the small and simple structure under the special spindle design. Various materials can be applied by the machine, such as PVC, Acrylic, wood, PCB, even some soft metal like aluminum and copper. Besides, all the machines are equipped with Mach3 controller. In addition, the machine can achieve the performance of good resolution and less noise with ball screw.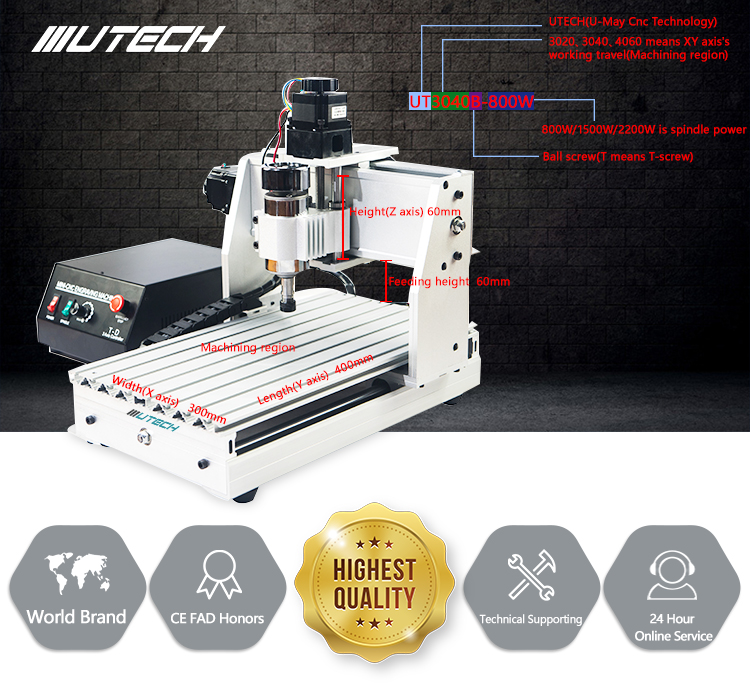 Product Description:
1. Milling and engraving CNC machines allow to realize any of your ideas. All you need is to prepare a model / vector in the program and submit the job to the machine , the rest themselves .
2. UTECH 3040 3axis 800W - is a professional mini- size machine with working area 300 x 400 mm (30 x 40 cm). Has the most powerful ruler in the spindle: XYZ. The spindle has a water cooling - it provides reliability and long service life.
3. Difficult to think of the problem, which cannot handle this car. The only limitation to the possibilities in front of large and heavy brethren: Stage size and speed of processing, and in the aggregate: functionality, compactness and price - out of competition.
4. The machine can easily be placed in a small workshop or home. Will apply for relief 3d- treatment (three-dimensional objects , reliefs, souvenirs, cliche) , engraving (personalization items , creating labels , jewelry , engraving PCBs ) , all types of cutting (letters and labels , signs , models ) , drilling.
Product use:
A. Used in PVC, acrylic, organic glass, double color board, engineering plastic electric wood, solid wood and other soft metal materials.
B. Graphite electrode processing, carving PCB circuit board, wood model mold crafts.
C. 3d sculpture of aluminum alloy, copper and other metal materials according to the feed rate.
D. Can be used as a simple three-dimensional numerical control platform, such as numerical control point glue, numerical control positioning, metal marking.
The main types of treatment:
Etching
Cutting
3d- milling
Boring
Milling and engraving on a rotating axis.
Allows you to handle:
Wood
Plastic
Chipboard, MDF , plywood
Light metals (copper, aluminum , brass)
Main areas of application:
Advertising industry
Creative workshops
Jewelry / designer items
Merchandise
Interior and decor elements
Type

6040

3040

3020

Max working travel

XYZ=400*570*75mm

XYZ=290*380*60mm

XYZ=210*300*60mm

Machinable material thickness

≤100mm

≤70mm

≤70mm

Dimensions

750*570*390mm

525*400*290mm

440*310*290mm

Frame material

6061-T5 aluminium alloy

6061-T5 aluminium alloy

6061-T5 aluminium alloy

Track type

Chrome-plated + linear bearing

Chrome-plated + linear bearing

Chrome-plated + linear bearing

Spiral type

Ball screw, diameter of 16mm, Thread pitch 5mm

T-screw, diameter of 12mm, Thread pitch 2mm

T-screw, diameter of 12mm, Thread pitch 2mm

Ball screw, diameter of 12mm, Thread pitch 4mm

Ball screw, diameter of 12mm, Thread pitch 4mm

Mechanical resolution

XYZ axis:0.0025mm/step

XYZ axis:0.0025mm/step

XYZ axis:0.0025mm/step

PositionaI accuracy

0.05mm

0.05mm

0.05mm

Spindle motor

Frequency conversion spindle, 0.8kw

2-300W DC spindle

2-300W DC spindle

Revolving speed

24000rpm/min

11000rpm/min

11000rpm/min

Holder

ER11(3.175mm,6mm)

ER11(3.175mm,6mm)

ER11(3.175mm,6mm)

XYZ motor

Stepper motor JK57HS76-4204B-01AF

Stepper motor JK57HS41-2004XB-01AF

Stepper motor JK57HS41-2004XB-01AF

Stepper driver

High performance, independent of each axis

High performance, independent of each axis

High performance, independent of each axis

Feed rate

2000mm/min

1500mm/min

1500mm/min

Communication Interface

USB2.0

USB2.0

USB2.0

System requirement

WIN-XP or WIN-7

WIN-XP or WIN-7

WIN-XP or WIN-7

Instruction code

G code/.nc/.ncc/

.tab/.txt

G code/.nc/.ncc/

.tab/.txt

G code/.nc/.ncc/

.tab/.txt

Voltage

Input 85V-240VAC(400HZ)

Input 85V-240VAC(400HZ)

Input 85V-240VAC(400HZ)

Operating environment

Temperature: 5℃-40℃; Humidity: 35%-80%

Temperature: 5℃-40℃; Humidity: 35%-80%

Temperature: 5℃-40℃; Humidity: 35%-80%

Packaging size

45.8kg (86*62*48mm)

25.5kg(61.5*48.5*38.5 mm)

22kg(51*40*38.5mm)